How to use monday.com as a CRM to track your CPA firm's business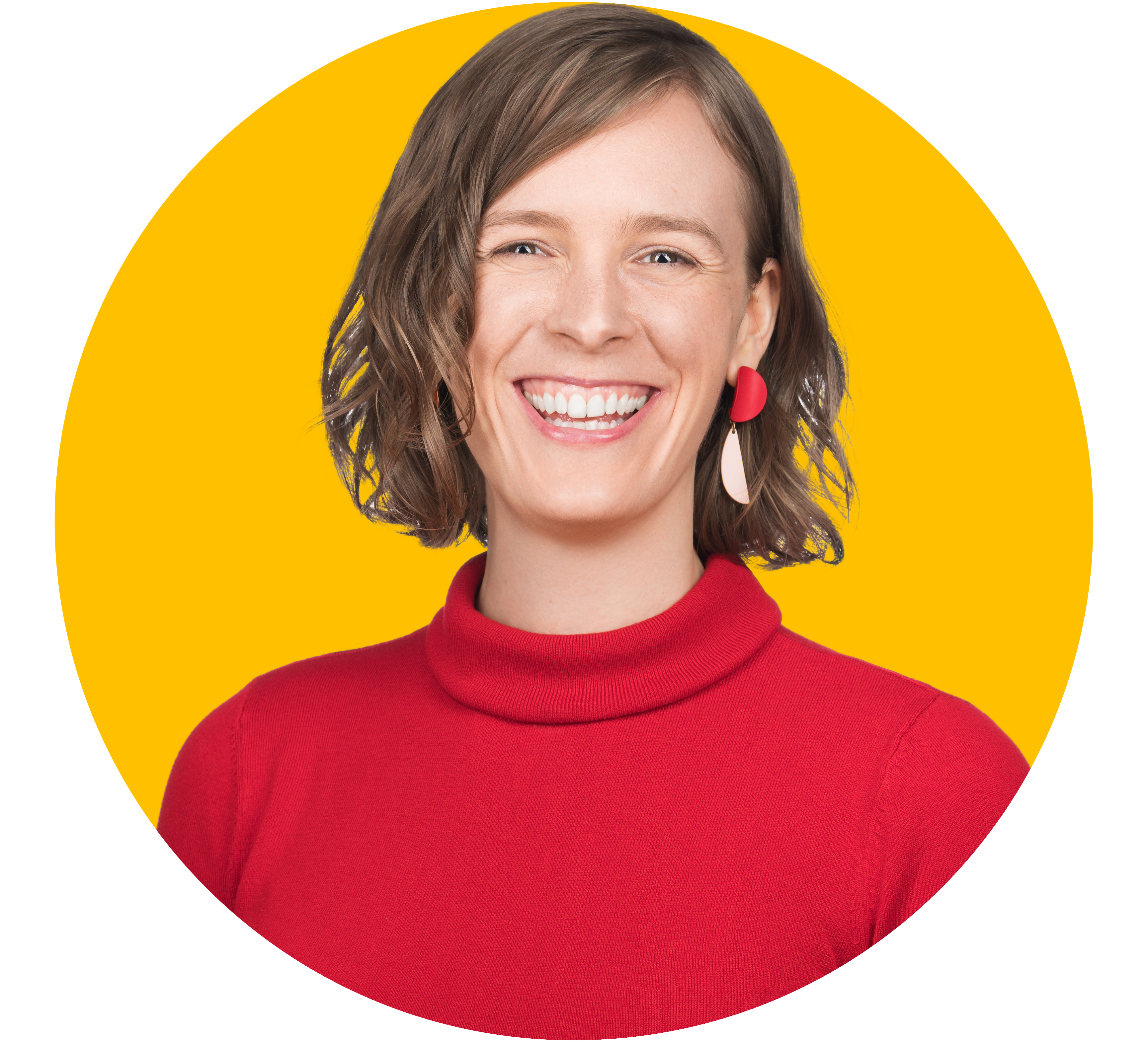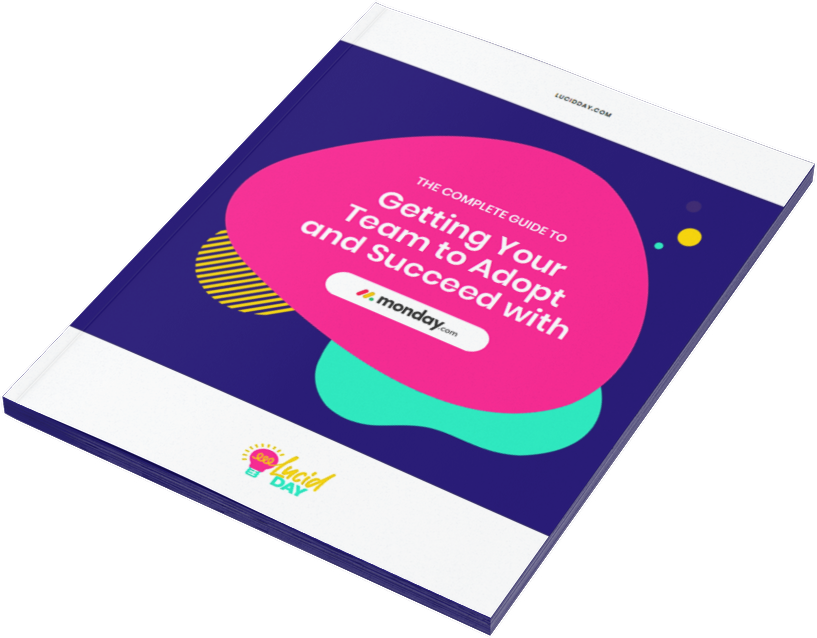 Get the most of your monday.com system with our monthly updates, tips, and tricks. What a great month…
Here are three quick tips for getting better results with your monday.com boards. While some of these might…
CRM software is THE most effective way to track your leads and current clients. Knowing this information is vital because it allows your team to eventually convert leads into actual clients — which is the name of the game. It's also helpful in remarketing to existing clients who may need a little TLC. The problem? Many CRM trackers are unwieldy and expensive — plus, are you actually going to use another software subscription? Probably not.
Luckily, you already have a great CRM at your disposal: monday.com. It's true, while it's most famous for its project management features,monday.com has a robust CRM piece that makes it extremely valuable for you and your sales team. Let's break down how you can utilize monday.com as a CRM to track your CPA firm's leads and clients — both for new business and remarketing.
Check out our guide to using monday.com as a CRM for CPAs
This information was so important, that we set up a separate landing page so you can deep dive into this process. Go ahead, check it out! For those of you who just need a quick refresher — here goes.
Setting up your Deal Information card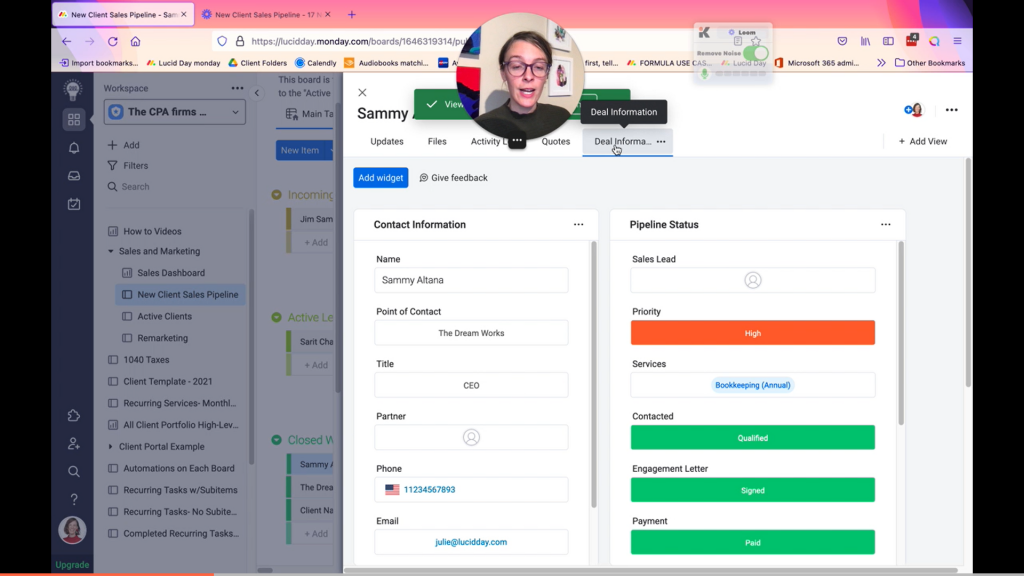 First off, do you see the deal information card? If not, don't panic. You're going to have to add it to your board.
What to do if your board doesn't already have a deal information card
Click on the desired item in your monday.com board
Look in the top right corner, click + ADD VIEW
Add item card
Now your deal information should have a couple of widgets for you to use best. We'll add those together here. For our purposes, we use CONTACT INFORMATION and PIPELINE STATUS. Later, we'll show you a bonus widget, but let's start here. Both are important for CRM tracking — you'll see why in a second. Let's start with contact information.
Contact Information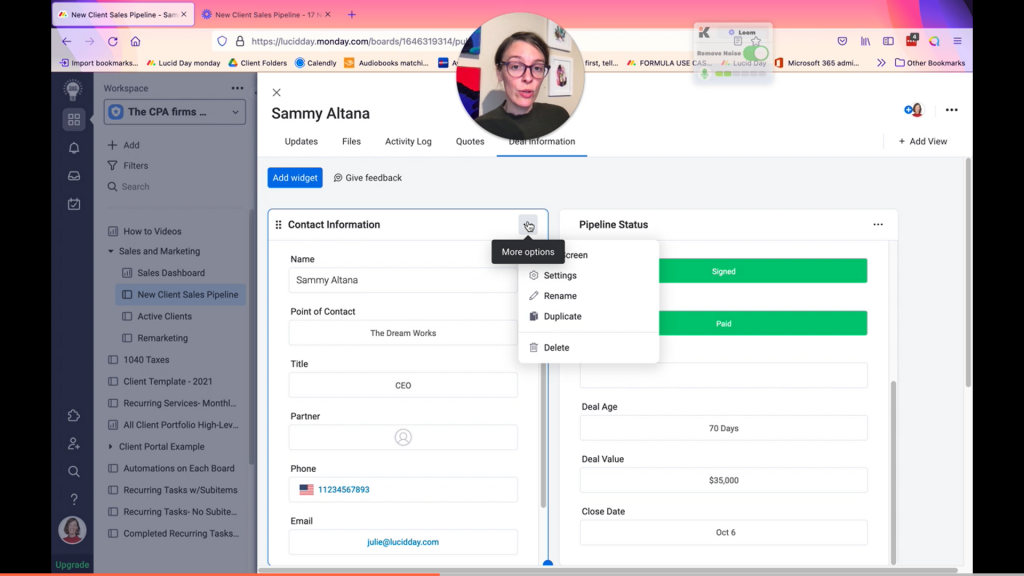 Basically, this widget pulls all the information from your board but does it in a way that's MUCH easier to read. You'll avoid something we like to call "death by horizontal scrolling," which is just a dramatic way of saying that you won't have to scroll on an item forever to find the info you need. Instead, you'll have all the information you need about your client in one place.
monday.com is great because you can customize the information to only what you want (or need) to see. Here's how.
How to choose what items are shown on the contact information widget
Go to … (more options)
Choose settings from the drop-down menu
On the right hand side, choose which columns you'd like displayed on the contact info widget
PIPELINE STATUS
Now we're going to have to track our sales. We want to know where our clients are at within the pipeline. To do that, let's add Pipeline status to our Deal Information page now.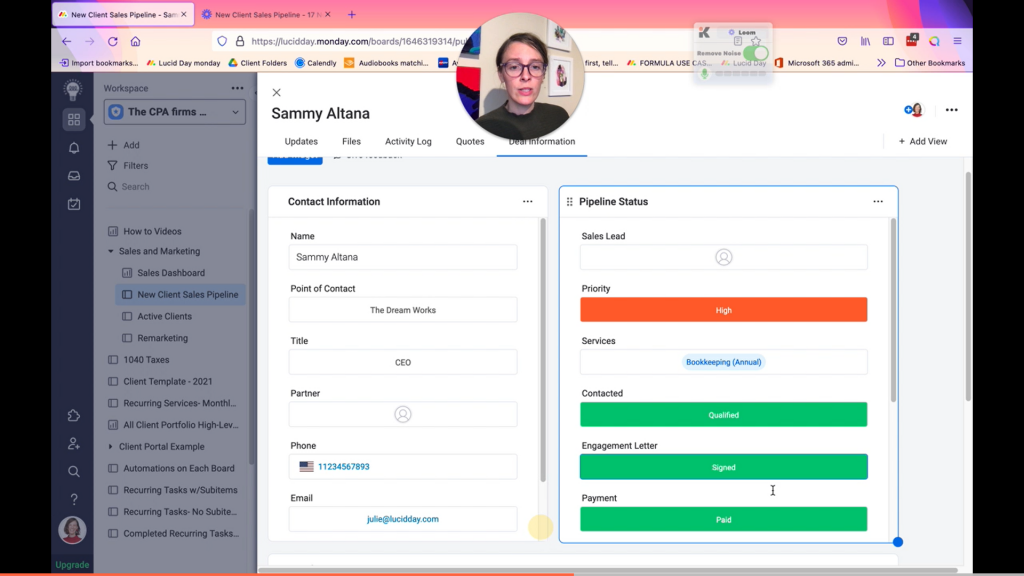 How to add the pipeline status to your Deal Information
Click "Add widget" You'll find it in the upper lefthand corner of the Deal Information page
Change the title to PIPELINE STATUS
Choose the columns you want to show. For us that meant

Sales lead
Priority
Contacted
Engagement letter
Deal age
Deal value
Services
While your columns may differ, it's important to note that these are all CRM-related information. Choose what works best for your organization.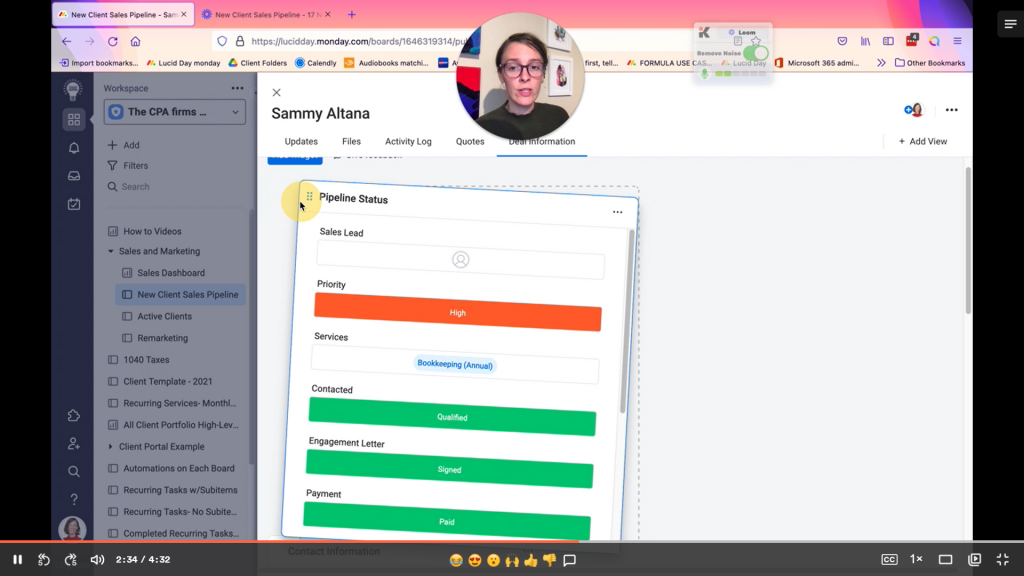 Bonus widget: Emails and activities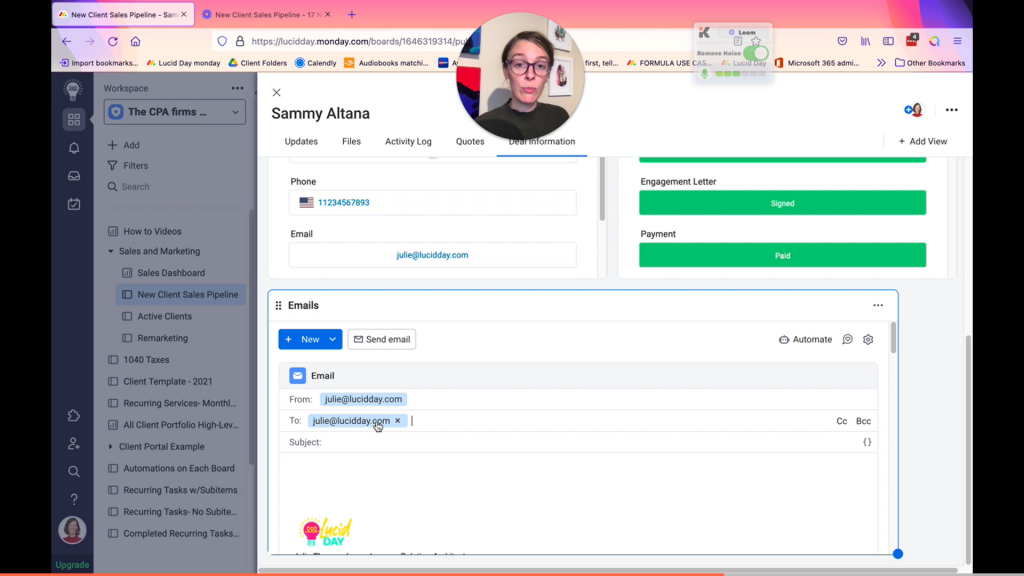 We've talked before about how you can use monday to email, but did you know there's a handy way to check and send these emails right from the Deal Information page? It's true. You can add that widget the same way we did the earlier ones above, but we find that you'll have a robust CRM set up for anyone who needs it with those three widgets together (Contact information, pipeline status, and email).
Stop scrolling through monday.com, with only a hope and a prayer that you'll find what you need. You don't have to! monday.com's built-in CRM widgets will have you organized, on top of things, and ready to go. Nice! That's using monday.com the way it was meant to be used!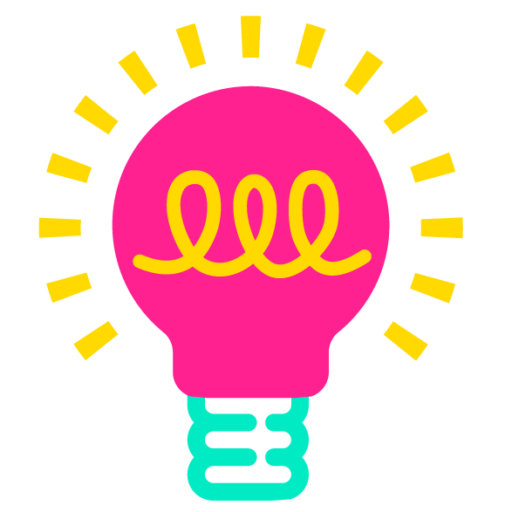 Have more monday.com questions?
We're here for you.
Lucid Day grew out of a passion for making work operations spark - for the individual, the team, and the business as a whole. We drive change in our customer's business by focusing on what will drive effective teamwork. We establish intuitive, simple, and robust workflows in monday.com within an effective structure to drive. And we believe monday.com can provide that unleashing energy.
As small and mid-sized business owners and loyalists, we've experienced first-hand the power of monday.com to revolutionize the way we do business and want other SMBs to experience it too. No matter the size of your organization or your budget, we will find a way to help you get all you can out of monday.com.