How to help your team adopt monday.com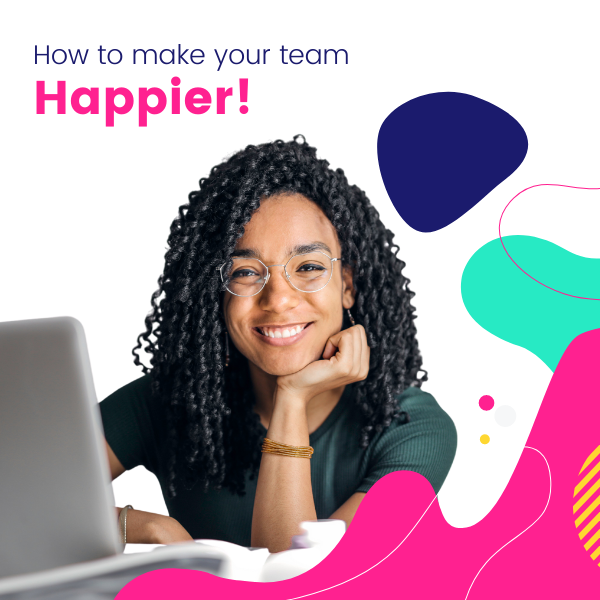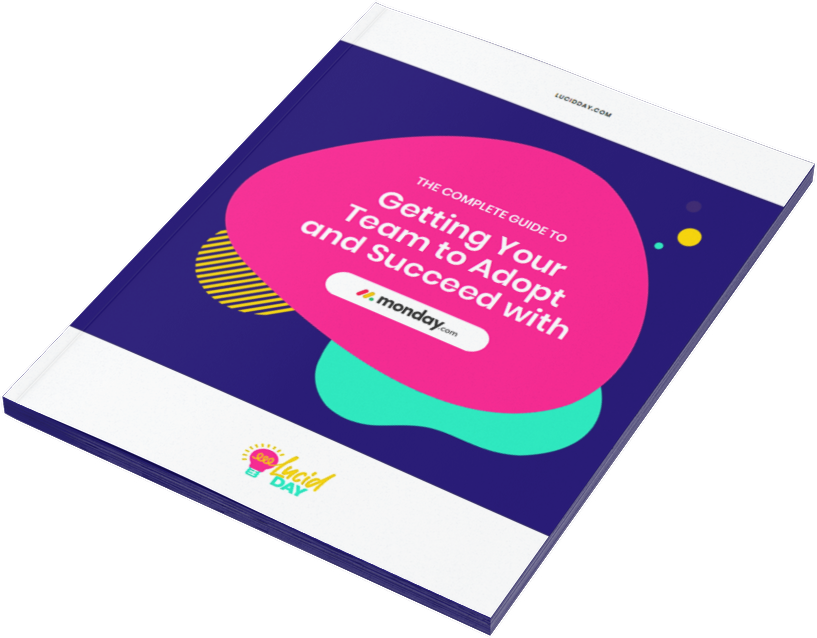 Get the most of your monday.com system with our monthly updates, tips, and tricks. What a great month…
Here are three quick tips for getting better results with your monday.com boards. While some of these might…
As a project manager you know that it's your job to make sure things get done, on time, and to the specifications you need. You also know that it's your people who do this work for you. This monday.com training is about how to keep THEM happy.
So let's say instead of using "my work", someone wants to see things on a particular board that only are assigned to them. One really amazing feature within views is how it can be specifically tailored to whoever is looking at it.
Filter your team's views to reduce confusion
Don't want your employees to be bogged down with extra details that don't affect them? Solve this by filtering your view with the "dynamic" view feature.
So let's say you create a table view and assign some tasks to an employee. Within that view, monday.com offers the "dynamic" view feature so that each person's view is tailored to their specific tasks. Set it up once, and your team member will have a custom view where they don't see everyone else's tasks.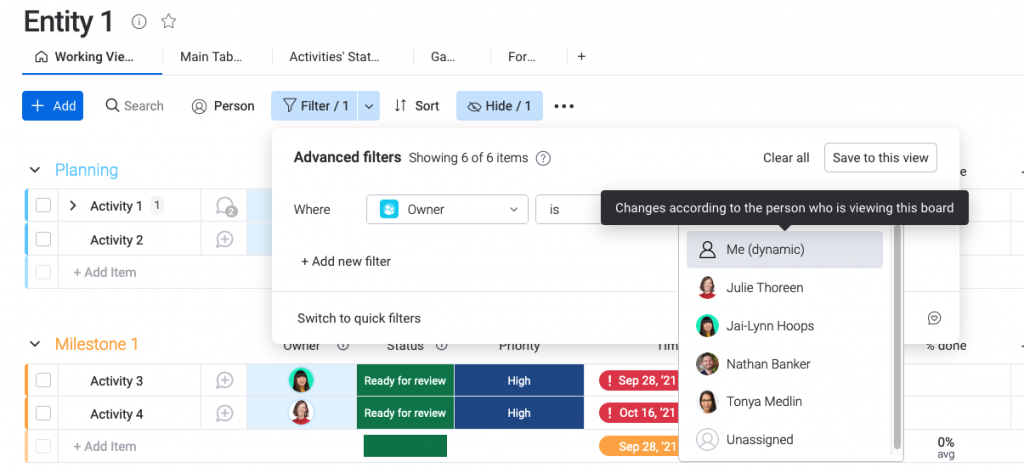 Here's an example from our training video, "How To Use monday.com to Set Up Your Team for Success".
For example, if my colleague Tanya comes in here, she's going to only see the tasks that are assigned to her. This same feature, the same filter can be used on dashboards. It can be used on, for example, a dashboard widget. And now it's only going to show those things that are having to do with me. So it's a really powerful widget.
Before Filtering: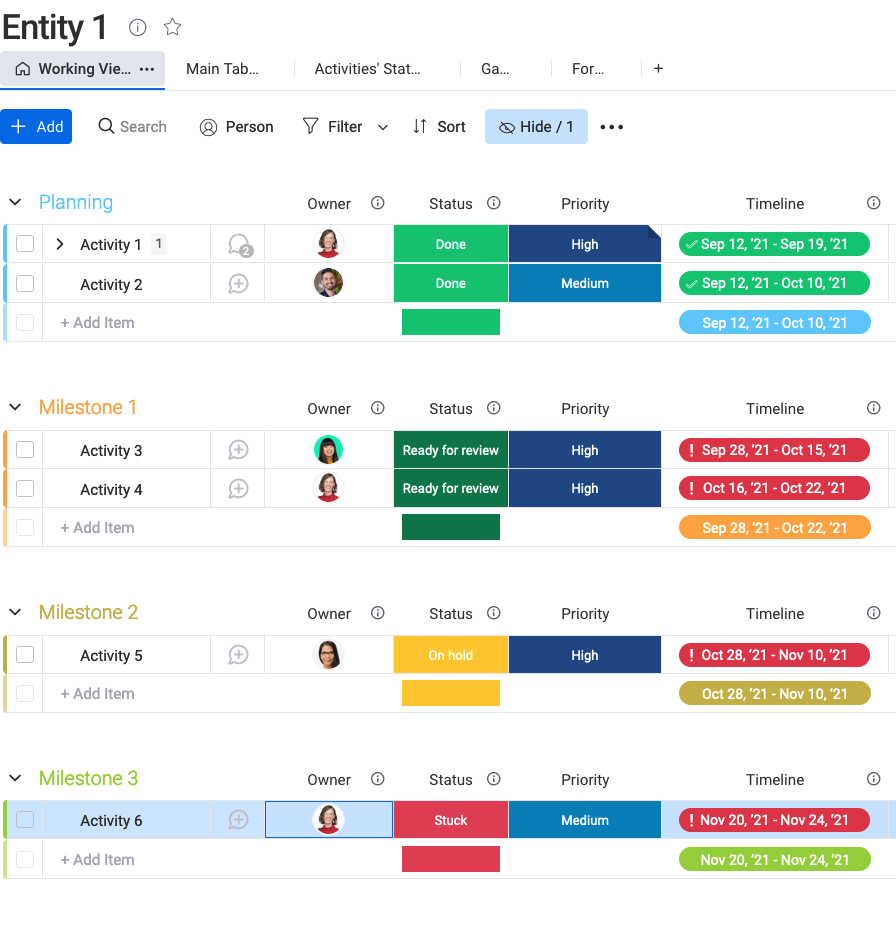 After Filtering: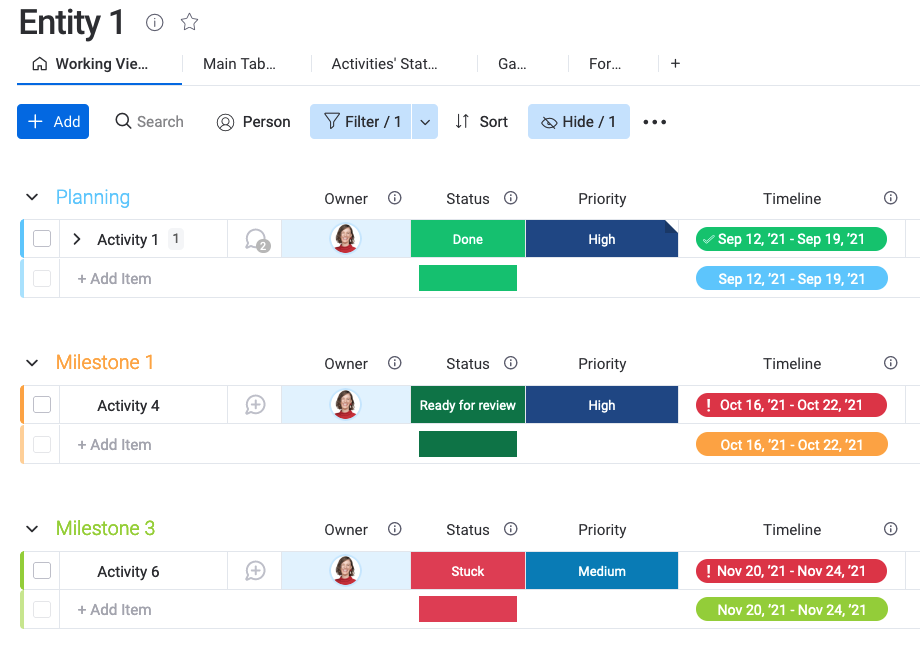 Making your monday.com easier to use for your team: limit their access
The reason why monday.com is so good is that it makes everything organized for you – while also being easy, intuitive, and fun for your team to use monday.com. So we've covered dynamic filtering, which is important because most folks on the production side of your team don't want to come in and see a lot of info that doesn't pertain to them. Is there anything else you can do?
Absolutely. One of the biggest things we stress at Lucid Day is learning how to organize your boards in a more intuitive way. That helps people understand where their things "live" so that they have a home spot they can go to to find the information they need. No more will they have to question you about where things go, or where to find a document.
To do this, you actually have to limit your team's access to edit things. It might seem counter-intuitive, but it's true. This is like putting guardrails in, so your team is able to make updates that matter.
For example, if you edit a particular column to restrict the editor to just you – your team won't have to worry about it. It might seem like a no-brainer, but the intentionality of this is important. Not just for how monday.com works, but how your team feels about monday.com. After all, managing your team and their personalities is just as important as getting them to understand the software itself. All of it fits together to create a cohesive plan. 
Ultimately monday.com is about people. Your people.
Restricting access and editing powers gives your monday.com board some intentionality that it may lack at the beginning of this process. When you do this, not only will it make tasks clearer for your team, it will make it easier for you to track when they're getting it done. Plus, your team will feel like you're helping and caring for them – instead of nagging them to learn yet another software or organizational platform. 
At Lucid Day, we understand that ultimately monday.com is about helping people, not just creating systems. It can be helpful to have this holistic view as you move forward. Getting your team on board can be easier than you think.
—
Upcoming Training!
You've started your monday.com trial, but you aren't sure how to best use it with YOUR team? You aren't going to want to miss this free webinar. We'll show you the absolute best ways to organize, plan, and get your team onboarded so they'll have the success you always dreamed of (and monday.com made possible). https://bit.ly/3GuIpse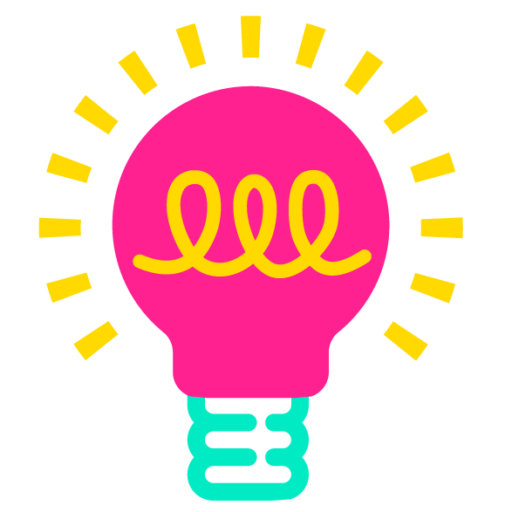 Have more monday.com questions?
We're here for you.
Lucid Day grew out of a passion for making work operations spark - for the individual, the team, and the business as a whole. We drive change in our customer's business by focusing on what will drive effective teamwork. We establish intuitive, simple, and robust workflows in monday.com within an effective structure to drive. And we believe monday.com can provide that unleashing energy.
As small and mid-sized business owners and loyalists, we've experienced first-hand the power of monday.com to revolutionize the way we do business and want other SMBs to experience it too. No matter the size of your organization or your budget, we will find a way to help you get all you can out of monday.com.